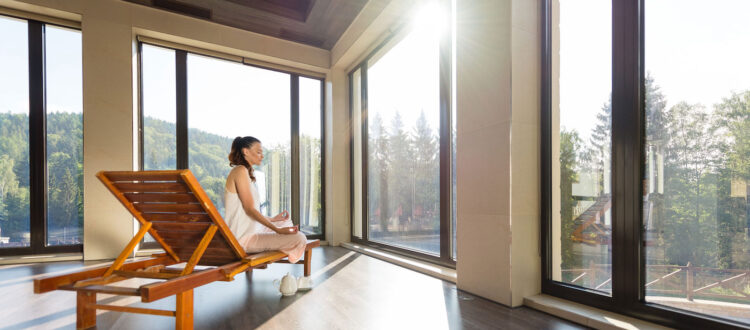 Weekly comprehensive revitalizing package
6 nights
Undisturbed sleep in a beautiful castle room
Full board
A combination of special healthy gourmet menus
Wellness
Unlimited access for the entire duration of your stay
Massages and treatments
3 wellness procedures daily
Do you feel like you need to escape the stress and problems of your working days for at least a little while? A week-long revitalizing stay will refresh your body and mind. Enjoy true relaxation. Put your worries behind you and treat yourself to pampering by our experts who will guarantee that you will leave us relaxed, refreshed, full of experiences and emotions. 
The Comprehensive Revitalizing Package program with a wide range of luxurious wellness treatments are the key to getting rid of tension and stress. The program is fully structured and therefore set for 7 days. It can be extended for those who want to achieve even better results. The program combines a special healthy gourmet menu (low in calories), the intake of lusatian spring water, at least one physical activity and three wellness treatments per day.
The programe includes:
6 x Accommodation in a room of your choice
Choice of meals from a specially designed menu

 

Full board

3 x main meals – breakfast, lunch and dinner
2 light snacks served in our Lobby Bar

Unlimited use of the wellness centre

Swimming pool
Roman and Finnish sauna
Jacuzzi
Kneipp walkway

Preparation of an individual programme of treatments
1 daily physical activity: Nordic walking, Aqua – Gym, fitness

 

3 Wellness treatments per day

 
Meals
The basis of the regime is the creation of a menu of basic ingredients, prepared in a suitable way to preserve the maximum nutrients that provide the body with energy, nutrition and strength. At the same time, our menu is designed so that you can enjoy gourmet specialties.
A personalised wellness programme for complete relaxation
The aim is a balanced wellness package of 3 treatments per day, where each treatment is selected from a specific specialty group so that the resulting package is comprehensive and the individual treatments form a harmonious whole. In addition to the 3 selected treatments, the program includes physical activity: Nordic walking, Aqua-gym, finess
The programme consists of a wide range of treatments in our Wellness Centre.
Program se skládá ze široké nabídky procedur našeho Wellness centra: Masáže, Speleoterapie, Zábaly, Koupele, Aromaterapie, Oxygenoterapie. 
Lužec Castle Spa & Wellness Resort is a peaceful oasis where harmony has found its name. No cars, peace and quiet, just the rustling of the trees in the wind. Stop, forget about the daily stress and let yourself relax.